SUMMARY

I love speakers, and I have bought a tested a lot of different sets over the years. This article presents those I consider "best value", a few sets of good quality bookshelf speakers that sound excellent but won't break your bank. Whether you hook them up to your iphone, use them with a small amplifier like this, or on your computer, I think you won't be disappointed.

TOP 10 BEST VALUE SPEAKERS UNDER ~$100

The list:

1. Sony SS-B1000 5 1/8-Inch Bookshelf Speakers
The first pair I would recommend - the trusty Sony SS-B1000 5 1/8-Inch Bookshelf Speakers. Great warm sound that rivals sets many times more expensive. Amazon's price on this set swings significantly, I have seen them go for as low as $55, and as high as $100. If you can find them for around $75, it's a great deal and you should get them. You can also look at their "used" selection, if you find them in "excellent" or "like new" condition at a good price, I would get them as well.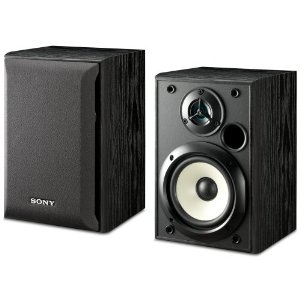 Sony SS-B1000 5 1/8-Inch Bookshelf Speakers (Pair)

Price: typically under $75


2. Micca MB42X
Micca has two sets of speakers on this list, the MB42 and the MB42X. I am ranking the MB42X higher, they are better than the MB42 - which are also very good - but cost a bit more. You should be able to get the MB42X for about $80 a pair. The construction quality is excellent. They feature a balanced woven carbon fiber woofer, and a high performance silk dome tweeter. They also have an optimized 12dB crossover with Zobel network. The bass response is strong with very low distortion. Their grills are magnetic, makes it easy to put them on and take them off. The speakers can handle 100 Watts (each). When compared directly with the 42's, the 42X respond better at lounder volumes, especially at the high end. These speakers sound as good as speakers in the $200-$300 range. I recommend you run them on 16ga wire minimum, 14ga if possible.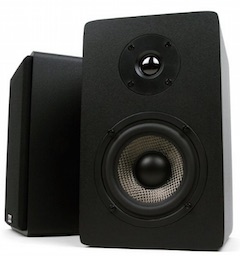 Micca MB42X Bookshelf Speakers with 4-Inch Carbon Fiber Woofer and Silk Dome Tweeter, Black

Price: About $80 on Amazon


3. Pioneer SP-BS22-LR
The third pair I am listing here is an excellent pair Pioneer SP-BS22-LR Andrew Jones Designed Bookshelf Loudspeakers. These are awesome, and once you pass the 30 hour recommended break-in period you will swear you are listening to speakers worth 3-4 times as much, lucky you.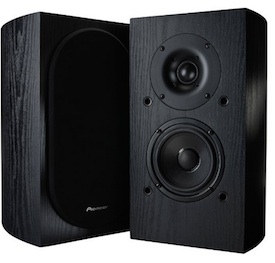 Pioneer SP-BS22-LR Andrew Jones Designed Bookshelf Loudspeakers

Price: used "like new" on Amazon for $70-$90


4. Infinity Primus P163BK
These cans - Infinity Primus P163BK Two-way 6 1/2-Inch Bookshelf/Satellite Speakers - are a little pricier, but you can usually find them on Amazon "used like new" for about $60 each. Wonderful sound, a fantastic speaker at this price, and far superior to Bose for example. These units use acoustical waveguides which deliver wide high-frequency response. I like this quote from one of the othe reviewers:

"I listened to a variety of bookshelf and built in speakers and these are the best in my opinion. The comparable Klipsch have a great high end (sizzling cymbals) but weren't as clear in the midrange. The comparable Polks were very warm and rich in the midrange, but lacking some at the high end. Both are great brands and have really excellent speakers. Do listen for yourself and decide which of these three fine brands you prefer. But for me, these Infinity's are ideal. They have great range from high to low, and are are so clear throughout the spectrum, that I only hear pure, uncolored music. Paired with a subwoofer, these are even better than my big tower speakers."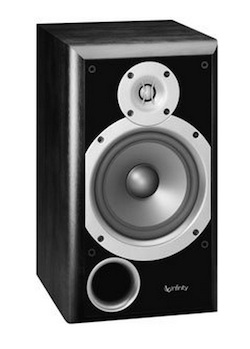 Infinity Primus P163BK Two-way 6 1/2-Inch Bookshelf/Satellite Speaker (Black, Each)

Price: used "like new" on Amazon for $120 a pair


5. Micca MB42
You may be surprised to learn that these speakers are usually on the list of top sold speakers on Amazon, right next to all the well known brands. The speakers include a 4" carbon fiber woofer and a 0.75" soft dome tweeter in a fairly nice looking ported enclosure. If you look at the cabinet closely you will notice that, even though it's made of MDF, the attention to detail is apparent on the details. The tweeter is a 0.75 inch soft dome design with a neodymium magnet. As to the sound, the bass is where these speakers really shine, the little woofer keeps pumping sound even at high volumes without distortion. The midrange is warm, and the upper midrange is where the speaker has the most trouble as the woofer slows down before the tweeter can take over.
The clarity and transparency is good though not great. The speaker bass sounds slightly better than the Sony SS-B1000, and in the upper vocals and treble it is significantly better. Compared to really good speakers, the MB42 blurrs the elments of a song slightly, making it more a bit more difficult to pick out individual sounds or instruments.
If I had to rate these units overall, the speakers are well made with quality consturction, and surprising attention to detail for the price range. The MB42s feature strong bass performance, and good over all sound quality. Upper midrange and clarity are the weak points. Still, they are nothing short or remarkable.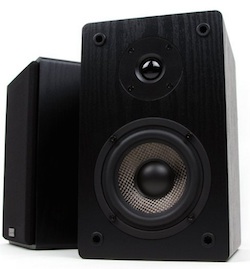 Micca MB42 Bookshelf Speakers with 4-Inch Carbon Fiber Woofer and Silk Dome Tweeter, Black

Price: Typically $49.95 for a pair, thought price may fluctuate up by $10-$20


6. Dayton Audio B652
These speakers are very, very good. They sound amazing, especially at a high volume. I would recommended using a beefier amplifier on these, the little Lepais are OK, but won't get you most out of this set. You definitely get more than what you pay for, but note that these are a bit larger than the other speakers on this review, and so it may not be ideal to have them on your desktop.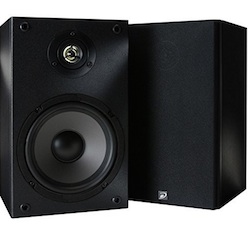 Dayton Audio B652 6-1/2-Inch 2-Way Bookshelf Speaker Pair

Price: Typically $39.95 for a pair


7. Fluance SX6
The Fluance are amazing speakers, though their price pushes them a little outside the others on this review. They are made in natural and black, and built with premium quality components. Designed for use as front main or home theater surround speakers, with audio grade MDF wood construction to reduce cabinet resonance, and ultra high-end Neodymium tweeters provide accurate high frequency response. Dimensions are 13.5 x 9.1 x 8.3 inches, and weight a little over 20 pounds, kind of heavy for their size. Straight out of the box they produced very pleasant sound with strong bass through the rear port, I had them about 7 inches in front of the wall. After about 50 hours of burn in time, they feature tight bass, and the trebles are bright, clear though not overpowering. Power handling is excellent. At the price they sell, very much a bargain.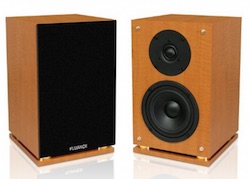 Fluance SX6 High Definition Two-way Bookshelf Loudspeakers

Price: Typically $129 a pair


8. Audioengine A5+
Audioengine is known for their high quality gear, and thease speakers are no exception. They come in white, black and bamboo, all 3 finishes look slick and have a premium feeling about them. They are quite heavy, which feels good when you unpack them and hook them up for the first time. Their sound has a strong bass bias - some people say they have "too much bass", but I find them generally pleasant. They can get very loud, delivering music that can fill a large room with a strong volume. I love the white ones myself, they come in a glossy finish, but like I said all 3 models look great. They come with a useful USB charging port, and also with a remote control. They feature custom Kevlar woofers and silk tweeters. Note that there is a lesser model called A5 (vs. this review is of the A5+), if you are on a budget they might be a reasonable choice. You can also get a smaller version of these, the A2+.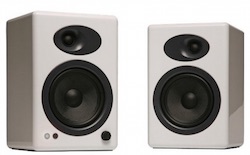 Audioengine A5+ Premium Powered Speaker Pair (White)

Price: Typically $399 a pair